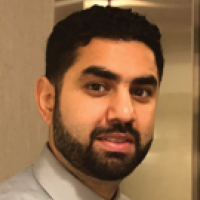 Dr. Mohamed Ben-Eltriki is a postdoctoral research fellow in the Department of Pharmacology and Therapeutics at the University of British Columbia (UBC), a researcher with the Cochrane Hypertension Review Group and the Therapeutics Initiative, and a community pharmacist in Vancouver, British Columbia.
How did you first come to learn about Cochrane? Why did you choose to volunteer/work with the organization?
As a pharmacist in British Columbia, I strongly believe in the need for independent assessment of published evidence to mitigate the inherent conflict of interest present in drug industry-sponsored information sources. After my PhD, I joined the Cochrane Hypertension Review Group, an independent organization that assesses the evidence behind pharmacotherapy, where I have obtained training in evidence-based medicine practice, critical appraisals of clinical trials of drugs to assess the evidence, clinical trial design, systematic review methodology, conducting literature searches, and performing systematic reviews to identify drugs safety signals.
What is your professional background and how does it lend itself to your current role with Cochrane Hypertension?
I am a licensed pharmacist in British Columbia, where I work on the frontline in a community pharmacy. In my daily pharmacy practice, my main responsibilities are to assess medication appropriateness and improve patients' adherence. 
Evidence-based medicine in pharmacy practice is essential for providing pharmaceutical care. Cochrane reviews provide up-to-date, evidence-based, practical information on prescription drug therapy. The Cochrane Hypertension Review Group is committed to helping clinicians make well-informed decisions about the prevention and treatment of hypertension by preparing, maintaining and promoting the accessibility of systematic reviews of the effects of healthcare interventions for hypertension.   
There is a gap between medical research and clinical practice, where scientific knowledge does not flow very well from laboratory to bedside. I have benefitted from being in a research environment during my graduate studies, a rare opportunity for pharmacy graduates, and I am now able to combine my knowledge and experience in clinical pharmacy practice with my research experience, providing professional evidence-based consultation on drug safety.
Is there a Cochrane-related initiative you are currently working on, or something you have planned for the future, that you would like our colleagues across the organization to know about?
As a member of the Cochrane Hypertension Review Group, I believe that an independent body with no conflicts of interest should be established to develop a single independent International Hypertension Guideline for worldwide use. Guidelines should be evidence-based and follow the same principles of evidence-based medicine, no matter where they are developed. There is no need for many countries around the world to be doing this. The advantages of this approach, in terms of providing a unified consistent message and saving time and effort, is obvious. The advantage in terms of minimizing bias is even greater. Such an international cooperative effort would do well to consider the contributions and expertise of Cochrane.
Finally, do have any advice or words of encouragement for people thinking about joining Cochrane's membership here in Canada or around the world?
Clinicians use evidence-based medicine as part of their medical decision-making process. I would suggest that young clinician-scientists visit the Cochrane website, where they can learn more about evidence-based medicine and get involved in performing a review under the supervision of experienced researchers, or participate in the development of reviews and evaluate the evidence on a particular topic. Cochrane reviews are high-quality research responses to common clinical questions, and they are an excellent source of evidence, containing more in-depth clinical information for use in daily management of patients and shared decision-making.
More about Dr. Ben-Eltriki
Dr. Ben-Eltriki completed his PhD in Experimental Medicine at the University of British Columbia, his Master's in Pharmaceutical Sciences at the University of Alberta, and his undergraduate pharmacy degree at the University of Benghazi.
As a registered pharmacist, Dr. Ben-Eltriki maintains his patient care pharmacist license through frontline work in a community pharmacy, where he incorporates strategies to minimize medication harm and burden. His research focuses on clinical pharmacy, systematic reviews, identifying drugs safety signals, intervention strategies to prevent medication related harm, drug interactions, and critical appraisal of clinical practice guidelines. 
For an up-to-date list of publications by Dr. Ben-Eltriki, please click here. To follow him on Twitter, access his handle here.