The global team behind the eCOVID-19 Recommendations Map, a novel tool providing decision-makers with the latest evidence on the prevention and care of COVID-19, is launching its webinar series on Thursday, February 25 at 11 a.m. (EST). Webinar one will be hosted by Dr. Tamara Lotfi, co-lead of the map, and will include the following learning objectives:
Learn how the map catalogues COVID-19 recommendations on a user-friendly platform, and how to access the best available evidence related to the pandemic from around the world;

Learn how to contextulaize the map's recommendations at a local, national and/or international level; and
Learn how to get more involved with this initiative.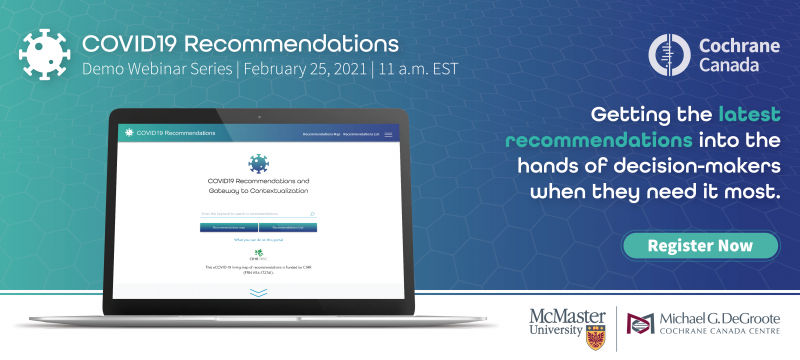 More about Dr. Tamara Lotfi
Dr. Tamara Lotfi co-leads the eCOVID-19 RecMap, as part of her role as Research Associate with McMaster University's Department of Health Research Methods, Evidence, and Impact (HEI). She is also the Coordinator on the World Health Organization's (WHO) eTB RecMap. Dr. Lotfi holds a Medical Degree and a Master's of Public Health, and is in her first year of the Health Research Methods PhD program at McMaster. Her expertise lies in evidence synthesis, clinical practice and public health guidelines, contextualization of recommendations and capacity strengthening.

This webinar will last one hour and will be recorded. Register for the webinar here.