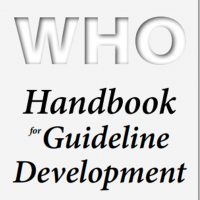 Director of Cochrane Canada, Holger Schünemann, and colleagues were recently awarded a contract from the World Health Organization (WHO) to develop with the WHO its new Handbook for quality assurance of its norms and standard-setting products, including the new version of the Guideline Development Handbook with updated and new chapters. 

The contributors are Elie Akl, Pablo Alonso-Coello, Romina Brignardello-Peterson, Jan Brozek, Carlos Cuello, Tamara Lotfi, Robby Nieuwlaat, Jennifer Petkovic, Thomas Piggott, Nancy Santesso, Adrienne Stevens and Vivian Welch. 

The Handbook is expected to release in 2022.

To review the current WHO Guideline Development Handbook, click here.
For resources related to guideline development process training, click here.