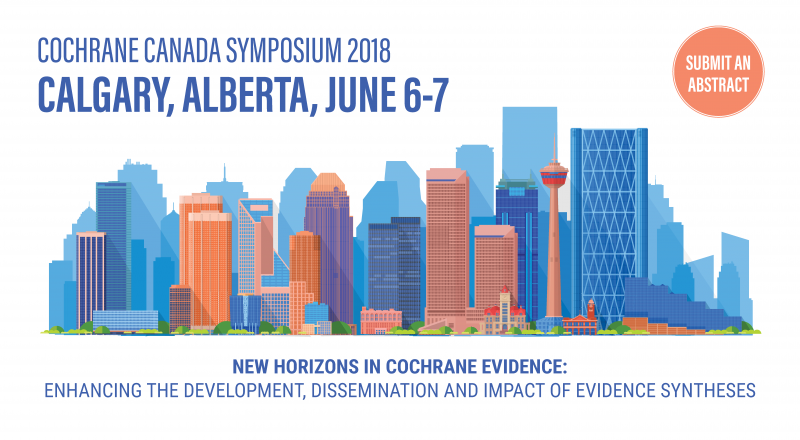 ABSTRACT SUBMISSION HAS CLOSED
Abstract Submission
Cochrane Canada Symposium 2018 will be held in Calgary, Alberta, on June 6-7, 2018. Cochrane Canada invites you to submit abstracts for posters, oral presentations and workshops starting January 15, 2018. We welcome abstracts that reflect our mission: To promote evidence informed health decision making by producing high quality, relevant, accessible systematic reviews and other synthesized research evidence.
This year's Symposium will offer consumers, practitioners, policymakers and managers, researchers and research funders an ideal forum to forge strong, meaningful partnerships and to discuss how to:
empower and engage patients with review-derived patient materials;
support health practitioners in efficiently and effectively using reviews and guidelines;
prepare policymakers and managers for a world of living reviews and guidelines; and
inspire the next generation of Cochrane reviewers and authors.
We look forward to receiving abstracts on a variety of topics relevant to evidence producers and decision makers, including:
New and innovative methods for producing evidence syntheses, including living systematic reviews, rapid reviews and complex reviews.
Methods for increasing efficiencies in the production of evidence syntheses (e.g. machine learning).
Methods or training in tools for creating or interpreting evidence syntheses, such as risk of bias and critical appraisal.
Strategies to promote the use of evidence by decision makers (consumers, practitioners, researchers, policymakers and others), including methods for involving patients and caregivers in the production and knowledge translation of evidence syntheses.
In keeping with our theme, "New Horizons in Evidence Synthesis," we particularly encourage early-career investigators, students and fellows to submit abstracts.
Abstract submission process
Abstracts will be accepted for three types of presentations:
Oral Presentations: Concurrent oral presenters will give a short (10 minutes) or a long (20 minutes) presentation during a 75-90 minute session, including approximately five minutes allotted for questions.
Posters: Posters will be displayed during the entire two-day Symposium. There will be set times during the Symposium where poster presenters will be required to stand by their poster.
Workshops: Workshops are 75-90 minutes long and must be an interactive learning experience.
Acceptance of abstracts into the Symposium program will be determined by the Abstract Committee based on relevance and scientific quality of the submitted work.
Requirements for abstracts
Abstracts should be no more than 250 words for oral presentations and posters, and no more than 400 words for workshops (not including title, authors and affiliations).
Abstracts for oral presentations and posters should use the following headings: Background and Objectives, Methods, Results and Conclusions.
Workshop abstracts should use the following headings: Background, Learning Objectives and Proposed Interaction and Exercises.
You will be required to specify the funding source for the project.
Our online submission process does not allow for the submission of charts or tables; this level of detail is not required for evaluating the merit of your abstract.
Abstracts written in either French or English will be considered. Presentations may be given in either French or English. However, the Symposium will not have simultaneous translation.
Work that has been presented elsewhere is eligible for submission.
Abstract Review Process
The abstract submission deadline is March 16, 2018, at midnight Mountain time.
Submissions will be made online. Please click here to submit your abstract.
Presenting authors will be notified of abstract acceptance and programming by email on or before April 20, 2018. This notification will indicate if the abstract will be presented as a poster, or oral presentation or workshop.
There will be specific formatting requirements for posters; these will be sent along with notifications of acceptance.
All presenters of accepted abstracts are required to register for and attend the Symposium. Notification of acceptance will be sent in time to register for the Symposium at the earlybird rate, which closes May 6, 2018.
ABSTRACT SUBMISSION HAS CLOSED